Residential Roof Replacement in Detroit
A roof replacement is a big job. Not only does it require a significant investment of time and money, but it also comes with a certain amount of risk. After all, your roof is one of the most important structural components of your home, and any mistakes made during the replacement process could result in serious damage.   
That's why it's so important to choose a roofing contractor you can trust. BCD Roofing has the experience and expertise to get the job done right. We'll work with you to choose the best materials for your needs and budget, and we'll handle the entire roof installation process from start to finish. We're confident in our work and we offer a warranty on all new roofs we install.  
So if you're in need of a roof replacement, give us a call today. We'll be happy to provide you with a free consultation and estimate.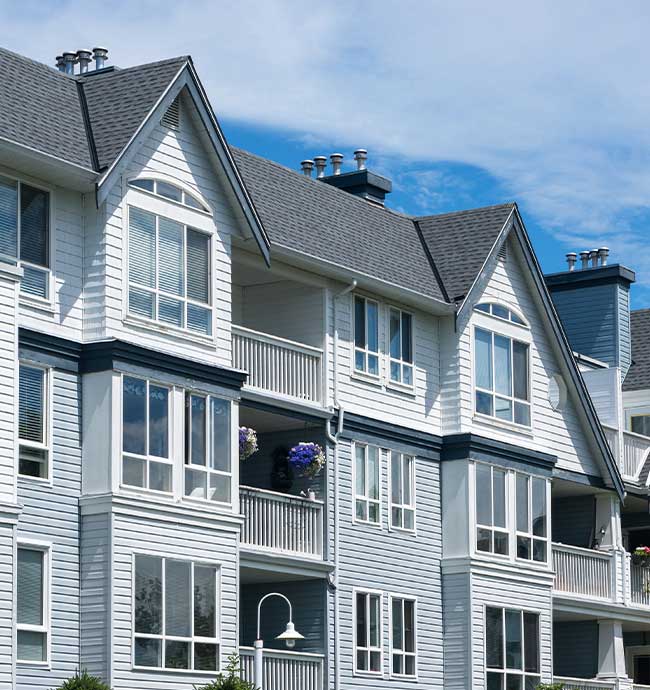 Why Should I Replace My Roof?
The roof is one of the most important structural components of a home, and yet it is often one of the most neglected. Many homeowners wait until there is a problem with their roof before they even think about roof replacement, but by then it may be too late.   
A roof should be replaced every 20-30 years, depending on the type of roofing material. Replacing a roof can be a costly investment, but it is an investment that is well worth the money. Roof replacement will not only extend the life of your roof, but it will also improve the energy efficiency of your home and help to protect your belongings from the elements.   
If you are thinking about replacing your roof, be sure to hire a reputable roofing contractor like BCD Roofing who can provide you with a quality roof replacement.  
Trust BCD Roofing to Replace Your Roof

 
BCD Roofing is a leading roofing contractor in Detroit, MI. We have the experience and expertise to get the job done right, from start to finish. Our team is committed to providing superior customer service, and we always go above and beyond for our clients.   
We use only the highest quality materials when replacing a roof and we stand behind our work with a full warranty.  
1. Wide variety of materials to choose from
When you work with us, you'll be able to choose from a wide variety of roofing materials, including asphalt shingles, metal roofing, tile, and more. We'll help you select the right material for your home based on your budget, aesthetic preferences, and local climate.  
2. We only use high-quality materials
We only use the highest-quality materials available on the market to ensure that your new roof will last for years to come. We also offer a variety of warranty options so that you can have peace of mind in knowing that your investment is protected and your home, belongings, and family are safe.  
3. Experienced roofing professionals
 We have been installing roofs for more than 15 years. We're confident in our ability to install your new roof quickly and efficiently, and we're always available to answer any questions you may have about the process.  
4. We offer competitive pricing
We understand that replacing your roof is a major investment that require careful consideration. That's why we offer competitive pricing on all of our roofing services. We'll work with you to create a payment plan that fits your budget so that you can get the roof you need without breaking the bank.  
Our Roof Replacement Process
The team at BCD Roofing knows that when you need a commercial roof repair or replacement, you've already been inconvenienced enough. That's why we try to make the process as simple and hands-free for you as possible while minimizing disruptions to your business.
Here's a quick look at our process:
1) Consultation & Inspection
Before beginning any work, we like to see what we're working with by coming out and performing a roof inspection. We want to hear your needs and goals and be your partner in choosing the best commercial roof for your business. During our roof inspection, we will do a visual inspection of your roof, give you a quote for our services, and then schedule the date for work to begin.
2) Roof Installation
Our goal is to minimize our installation activities as much as possible so that your business can proceed without interruption. We can't promise we will be whisper quiet, but we do maintain a clean workspace and can ensure the safety of your customers and employees while we work. After the consultation, we should also have a project timeline to share with you so that you can look forward to getting us out of your space and go back to business as usual.
3) Satisfaction Guarantee
We've been serving businesses in the metro Detroit area for over 20 years, and we still stand by our work today, just like we always have. After your roof repair or replacement, we do one more thorough inspection for quality control and to fix any lingering issues. We also give you a guarantee period so that in the event we haven't lived up to your expectations we'll fix any issues, no questions asked.
Areas We Serve
We're proud to serve multiple communities in the metro Detroit area with high-quality commercial roofing services, including the following counties:
Get a Quote
If you're ready to replace your roof, contact BCD Roofing today. We'll provide you with a free consultation and estimate and get started on your project right away. We look forward to working with you!