TPO Roofing for Commercial Properties
Durable roofing systems from Trusted Detroit Roofers.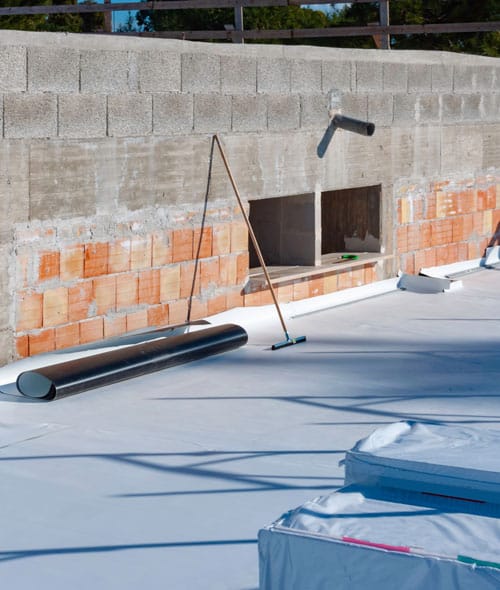 If you've ever seen a flat, bright white roof on a commercial building in Detroit, you're already familiar with TPO roofing. TPO stands for thermoplastic polyolefin, which is a single-layer membrane that makes a sturdy, durable roofing material. TPO is a sheet of rubber and a variety of other synthetic materials that can be fastened, chemically attached, or ballasted to protect the top surface of a building.
TPO, as a roofing material, is one of the fastest-growing choices among today's commercial building owners. It's relatively inexpensive, provides unmatched insulation, and resists harsh outdoor elements like UV rays, hail, wind, and extreme temperatures.
TPO Roofing Benefits
Business owners in metro Detroit choose TPO roofing for their commercial buildings for a variety of reasons. Here's a look at some of the benefits you can expect when you install a TPO roof:
Roof Longevity
TPO is notably strong and can resist punctures, impact damage, tears, and other stress. When installed correctly, a TPO roof should last 20 years or more.
Superior Insulation
Unlike other roofing choices, TPO roofing doesn't include insulation because it's applied as a single-layer membrane. This gives the facility owner more freedom to choose how to insulate the roof.
Highly Reflective
The bright white surface of TPO roofs is highly reflective. This helps to bounce sunlight off the roof instead of absorbing its heat, which in turn can help keep your building cooler in the summer and avoid forcing your HVAC system to work harder than it needs to.
Little to No Maintenance
Building owners will be happy to know that TPO roofs are naturally resistant to buildup of dirt, debris, mold, dirt, and algae. It can also stand up to chemical exposure and sunlight, helping you to get many more years from your investment.
How are TPO Roofs Installed?
When we install a TPO roof on a commercial building, we first prime the substrate material by cleaning it and removing any debris or buildup or removing the existing roof. Our team will then lay the insulation and ensure no gaps exist beyond ¼".
Next, our team will measure and cut the TPO membrane to ensure a proper fit. We use a mechanical fastening system and specialized tools that ensure a seamless final product.
Last but not least, we conduct a thorough inspection of our work to ensure no gaps or imperfections.
Costs of a TPO Roof
As with any type of roofing project, the total cost will depend on the size and condition of your building's roof, materials, and other factors. Typically, TPO material will range anywhere from $2.50-$4 per square foot.
We can provide you with a quote for your new roof upfront and recommend whether a TPO roof might be the best option for your building.
Detroit Loves BCD Roofing

Bryan and his partner Josh a excellent job the last few monthes on my Grosse point properties. Total renovations from top to bottom inside and out! I could not have asked for more!

Excellent workmanship, thorough, knows what they are doing. Bryan, the owner spent much time explaining, returned calls, caring. Would highly recommend this company.
Contact Us
Interested in TPO roofing for your commercial facility? Contact our trusted Detroit roofers for a quote.