Shingle Roofing for
Commercial Buildings
Choose Detroit's best roofers for commercial roof repair or installation.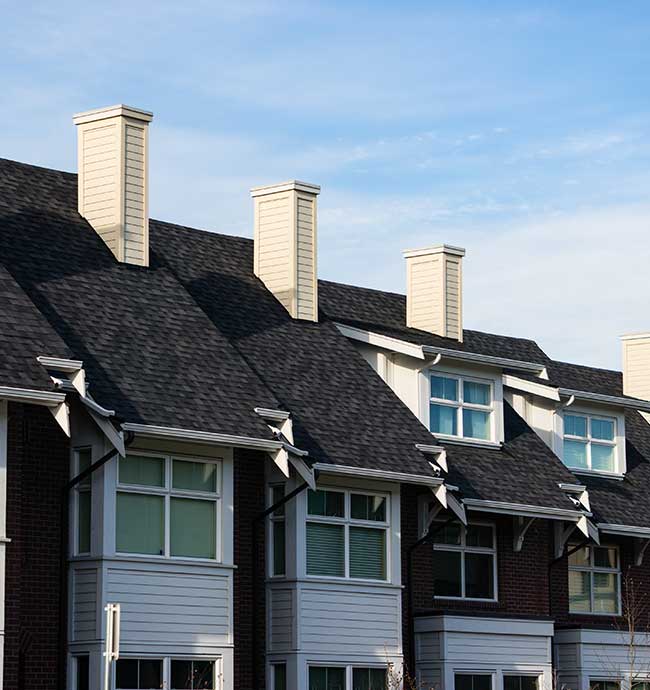 Shingle roofing is a popular choice for commercial buildings in Detroit and throughout the country. Shingles are small squares or rectangles made of asphalt, slate, or composite material and are applied in an overlapping manner on the roof. This overlapping helps form a waterproof barrier that lets moisture roll down and off the roof instead of getting stuck in between shingles. For most businesses we serve, asphalt shingles are the most popular roofing choice.
Shingles can take different forms, sizes, shapes, and materials. For commercial building owners, designer shingles, 50-year shingles, or architectural shingles are often the best choices. Each of these tends to be more durable than the 3-tab roof shingles that you may see on older homes and are better able to withstand high winds and other extreme weather.
Our Installation Process
The team at BCD Roofing knows that when you need a commercial roof repair or replacement, you've already been inconvenienced enough. That's why we try to make the process as simple and hands-free for you as possible while minimizing disruptions to your business.
Here's a quick look at our process:
1) Consultation & Inspection
Before beginning any work, we like to see what we're working with by coming out and performing a roof inspection. We want to hear your needs and goals and be your partner in choosing the best commercial roof for your business. During our roof inspection, we will do a visual inspection of your roof, give you a quote for our services, and then schedule the date for work to begin.
2) Roof Installation
Our goal is to minimize our installation activities as much as possible so that your business can proceed without interruption. We can't promise we will be whisper quiet, but we do maintain a clean workspace and can ensure the safety of your customers and employees while we work. After the consultation, we should also have a project timeline to share with you so that you can look forward to getting us out of your space and go back to business as usual.
3) Satisfaction Guarantee
We've been serving businesses in the metro Detroit area for over 20 years, and we still stand by our work today, just like we always have. After your roof repair or replacement, we do one more thorough inspection for quality control and to fix any lingering issues. We also give you a guarantee period so that in the event we haven't lived up to your expectations we'll fix any issues, no questions asked.
Areas We Serve
We're proud to serve multiple communities in the metro Detroit area with high-quality commercial roofing services, including the following counties:
Macomb County
Wayne County
Oakland County
If you do not see your service area listed, reach out to our team so we can see how we might help.
Get in Touch
Need a shingle roof for your commercial property? Contact Detroit's roofing experts today for a free quote.